Please note that prices and shipping on this site is only for New Zealand.
If you are outside of New Zealand and would like to order something please email

regalia@nocnz.org.nz

with code numbers and quantities so shipping can be sorted for you.
If the regalia pages don't appear to be working properly please contact

editor@nocnz.org.nz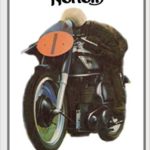 The Unapproachable Norton
by Murray McLeod
From humble beginnings 1907 to the last flash of glory in 1961, Norton was in the forefront of International Grand Prix racing. The author has compiled a series of profiles of these Norton 'works' immortals from that heady 1930 decade, and into the post war period from 1947-1955. This has been an enjoyable exercise for Murray, in particular the presentation of his pencil portraits, which are beautifully crafted mementos for any collector.
| | |
| --- | --- |
| Member: $23.00 | |
| Non Member: $30.00 | |